Dlf hyde park bunglow new chandigarh near gmada ecocity and omaxe mullanpur
Published: January 28 for
Sanjay
DLF Expandable Bungalows at
hyde
Park Estate,New
Chandigarh
(Mullanpur)
Greetings From
BROADWAYS REAL ESTATE
broadwaysrealestate@yahoo.com
95010-31800 (Sanjay Gupta)
98728-31800 (Vikas Sabharwal)
Visit our website to updatesother Real Estate projects in Tricity
http://broadwaysrealestate.hpage.com
DLF Hyde
park
Estate, New Chandigarh Mullanpur first residential development is spread over 200 acres oasis of lush green landscapes at the foothills of the Shivalik Mountain Range. Fringed with trees and dotted with manicured greens, it is a self-contained luxury township that celebrates life in all its radiant splendour. DLF has also to set up Golf Course and Water Park on 230 acres at Mullanpur. A 200 acres low rise and secure, master planned community inspired by English architecture. DLF Hyde park has Clubhouse with all Advanced Equipment exclusive for members. This is the only Clubhouse with modern amenities and recreational facilities, specialty restaurants, health club, swimming pool with splash pool and more developed in Mullanpur
DLF Hyde Park Bungalow truly meet the luxury standard reflects the true happiness where each day will differ with the family. These expandable bungalows can be expanded in future according to your needs. In addition design and foundation is ready for two additional floors and it is dedicated with green lawn with the phenomenal clubhouse that comprise with excellent facilities. This property is exclusively for those who are looking for style and class in the lifestyle. Interconnected landscaped areas with aesthetically designed landscaped features and tree-lined streets have been designed.
Project Details
Project Name: DLF Hyde Park Expandable Bungalows
Location: Mullanpur, New Chandigarh
Plot Area: 350-SYD
Built Up Area: 1884-Sft
Accommodation: 3BHK + Servant Room (Serv Room with separate entry)
Provision for lift is also there
Only Ground Floor is Built. Further scope of expansion up to 2 more floors.
Price Details
BSP: 9250/- PSF
EDC: 255/- PSF
1 PLC: 520/- PSF
Booking Amount- 10 Lac
Payment Plan: Construction Link
Amenities of DLF Hyde Park
24 hrs power back up and water supply
Restaurants and Banquet Hall
Healthcare Centre, Billiards and Card Room
24x7 power back-up and water supply
Spa and Beauty Parlor
Shopping Complex for Convenient Shopping
Landscaped Gardens with Ample Space for Children?s Play Area
Bore Well / Water Treatment Plant
Kiddies Park (with Slides, See-Saws, Swings and Sand Pits).
Street Lights / Solar Lighting
Internal Roads (Bitumen / Cement)
Underground Drainage system
About DLF Hyde Park Mullanpur
DLF now replicates this "Quality of Life" with infusion of modern infrastructure into a virgin green environment by launching Chandigarh's twin city - NEW CHANDIGARH. It is prominently located in the close proximity to the city of Chandigarh on Madhya Marg along the operational Chandigarh-Baddi road, 8 kms from Post Graduate Institute (PGI)/ Punjab University. New Chandigarh is the next biggest development from DLF after Gurgaon. Hyde Park - is the 1st colony to be launched in New Chandigarh offering plots. DLF offer the best destination to live in and this terrific project Hyde Park which will make the life stunning and more quality time can be spent with the family. The project is filled with ample of facilities that will make the hard life easier and also uplift the living standard. It is also well connected with the Chandigarh Railway station, City Centre, Chandigarh Bus Stand, Airport and other basic places all are just a stone?s throw away to make the commuting easier.
Features of DLF Hyde Park
Plots of sizes 350 & 500 Sq yards
Close to premium educational and medical facilities
Proximity to Baddi, Ropar and Chandigarh at one point access
Development in full swing by other developers like Omaxe and GMADA Ecocity
Rejuvenate with overlooking shivalik range
Eye catching scenic and hill view from the site
Cohesive urban design ? street furniture, signage and road lightening
Dedicated children?s play areas and tot-lots
Jogging and cycling tracks
Choice of nursery, primary and secondary schools in the neighborhood
Modern healthcare, child care and maternity center facilities
Individual rain water harvesting pits for every home
Access controlled security system
Sewage treatment plant (STP) and smart garbage disposal system
Hazard free underground electric cabling
Wi-Fi enabled and IPTV ready community
Eco friendly and energy efficient smart solar water heaters and street lightening
About Mullanpur
Government plans to develop a golf course on 150 hectare in Mullanpur
Spa village on one hectare in Mullanpur in new Chandigarh, Chandigarh Extension
Turf club on 80-90 hectare.
Lifestyle sports hub on 35-50 hectare.
Indoor stadium on one hectare
Sports stadium on five hectare
Eco-park on 10 hectare with 60-foot-wide approach road
Health village on 10 hectare with 60% area for medical facilities, 30% area for residential and 10% area for commercial use on the pattern of IT Park. A state-of-the-art seven-star hotel coming up on 25 acre
land,
, the hotel project outlay is Rs. 200 crores. Approval granted to master plan of Mullanpur Local Planning Area to develop 15,130 acres of land spread across 33 villages on the outskirts of Chandigarh.
According to the plan, industries in Mullanpur will be catering to service-oriented businesses such as IT, health and tourism.
Key Distances
13 KM Chandigarh Bus Stand (ISBT)
20 KM Chandigarh Railway Station
20 KM Chandigarh Railway Station
26 KM Chandigarh Airport (Domestic)!
12 KM City Centre (Sector-17)
06 KM Post Graduation Institute (PGI)
06 Punjab University
Tagged:
DLF Hyde Park Bungalows Mullanpur, DLF Hyde Park Bungalows New Chandigarh, DLF Hyde Park Expandable Villas, DLF Hyde Park Residential Project, DLF Hyde Park Villa
Write review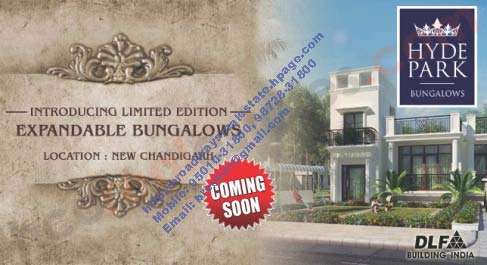 Dlf hyde park bunglow new chandigarh near gmada ecocity and omaxe mullanpur
Write review
Leave your comments on this ad
Offensive messages and spam will be removed