Ambrosia project by omaxe gmada mullanpur, new chandigarh near dlf hyde park
Omaxe
Chandigarh Extension Mullanpur | Omaxe
ambrosia
3-BHK Floors Flats in Mullanpur
**** Broadways Real Estate *****
Sanjay 9501031800, Vikas 9872831800
Website: http://broadwaysrealestate.hpage.com
OMAXE MULLANPUR AMBROSIA FLOORS | OMAXE AMBROSIA FLOORS MULLANPUR NEW
CHANDIGARH
| AMBROSIA FLOORS MULLANPUR | OMAXE AMBROSIA FLOORS NEW CHANDIGARH | OMAXE RESIDENTIAL PROPERTY IN MULLANPUR | OMAXE MULLANPUR | OMAXE CHANDIGARH EXTENSION MULLANPUR | OMAXE AMBROSIA 3 BEDROOM FLOORS FLATS IN MULLANPUR | OMAXE RESIDENTIAL PROJECTS FLATS | PROPERTY IN MULLANPUR | OMAXE FLATS CHANDIGARH | OMAXE
project
NEW CHANDIGARH EXTN | OMAXE NEW CHANDIGARH | OMAXE FLOORS FOR SALE CHANDIGARH | OMAXE FLATS IN RESALE MULLANPUR | OMAXE 3 BEDROOM MULLANPUR | OMAXE AMBROSIA 3-BHK FLOOR
3bhk with servant room with 1450 sq.ft area Ambrosia floors available at very good price at very good location. Project is located on 300-ft express highway just 5-10 minutes drive from Chandigarh PGI.
Omaxe Chandigarh Extension near PGI will be an Integrated and Self Sustained township at Mullanpur Near Chandigarh. Development work already started at site. Five Giant Parks (One 8-Acre and rest half an Acre each), Musical Fountain, 5-Star Luxury Club, Tree-lined avenues, surrounded by 30 Kms of reserved greens, perfect connectivity, A tastefully Designed
Apartments,
, and when you have it all midst more than 500 Acres Township Omaxe New Chandigarh, the poshest neighborhood of dream city Chandigarh, it sounds too good to be true.
Detail of Omaxe Ambrosia Project
Plot Size: 250 Sq. Yard
Plot Area: 1425 Sq Ft
Ground Floor: 44.50-Lakh
First Floor: 39-Lakh
Second Floor: 40-Lakh
EDC = Rs. 88/- PSF
IFMS = Rs.20000/-
Club Membership = Rs. 50000/-
Power Back Up = Rs. 19000/- per kVA (min 3kva mandatory)
All Floors are completely sold out and available only on Resale
Demarked parking on Ground Floor for all the individual floor owner
Second Floor owner has 60% roof rights
Call for More Info: 95010-31800, 98728-31800
Proximity
Near to Botanical Garden
Pollution free environment
Near to Proposed Bus Stand Mullanpur
Tree-lined 100 metre road on both sides
Beautiful view of mountains Shivalik Hills
Surrounded by 30 Kms of reserved greens
Near to Proposed Amusement Park / Film City
Only 3.5 Kms. from Sector 38 West, Chandigarh
Connected to 6 lane highway from Madhyamarg
Going to be Punjab's first 'eco-town /Green City
4-Kms From Chandigarh Boundary on Baddi Road.
Project has a very good connectivity with Baddi, Nalagarh and Mohali
Near to State of the art Health village with Medicity in 125 acres
Near to Proposed Health Village and 42-Acre Cricket Stadium
8-Kms from PGI Hospital and Punjab University
Amenities
Well designed G+2 independent floors 1450 sq. ft each
Security Personnel
Schools / Healthcare
Parks / Jogging Park /Children Play area
Fountains / Water Bodies
Street Sculpture & Meditation Lawn
Modular Kitchens (Optional)
100% Power back-up and Piped Gas
Reserved Parking for each Floor
30 Kms of Reserved Greens
Club House including Spa, Sauna, Gym, Swimming Pool etc
Metro line, bus facility coming up nearby
Connected to 6 lane highway from Madhya marg
Omaxe New Chandigarh Extension Mullanpur
Omaxe New Chandigarh, proposed over 1000 acres in New Chandigarh, is a modern integrated township. With New Chandigarh buzzing with development activities, the plots on offer in Omaxe New Chandigarh are in various sizes of 200/300/500 sq yard, enabling you build a house the way you desire.
Omaxe New Chandigarh, which also consists of independent floors and villas, enjoys the vicinity of the upcoming metro line and bus terminal, Sarangpur Industrial Area and is at a stone?s throw distance from PGI Chandigarh making it a very attractive destination.
Facilities like schools, office-cum-shopping complex and space for recreational activities like amusement parks enthrall the township. The township is also home to one of Punjab?s tallest commercial hub, India Trade Tower. Infrastructure including educational institutions, healthcare, hospitality, landscaped gardens, children park, jogging track, underground drainage, medical facility, club with ultra-modern facilities to name a few add to the advantage of Omaxe New Chandigarh.
A rejuvenating view of the Shivalik ranges, lush botanical garden makes the environs healthy and pollution free.
New Chandigarh, located in the vicinity of Chandigarh is set to emerge as next real estate destination. The First Eco-Town of Punjab, the city could provide more space to new development with better planning and is well connected to Chandigarh.
For more information & Booking-
Sanjay 9501031800, Vikas 9872831800
Broadways Real Estate
SCO 186-188, Ist Floor
Behind Ghazal Hotel
Sector-17C, Chandigarh
Email: brechd1@gmail.com
Website: http://broadwaysrealestate.hpage.com
Write review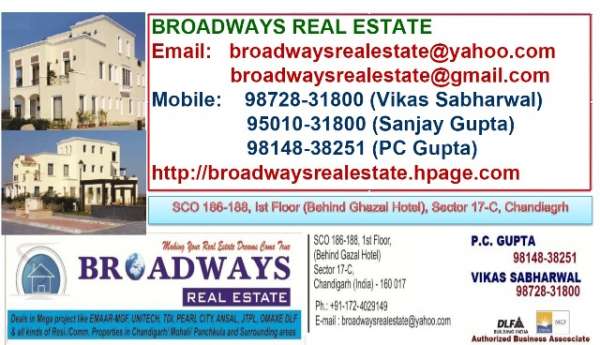 Ambrosia project by omaxe gmada mullanpur, new chandigarh near dlf hyde park
Write review
Leave your comments on this ad
Offensive messages and spam will be removed